These research studies examine factors that contribute to fraud victimization and scam susceptibility as well as interventions and preventative measures aimed at protecting consumers.
Featured Studies
Exposed to Scams: Can Challenging Consumers' Beliefs Protect Them from Fraud?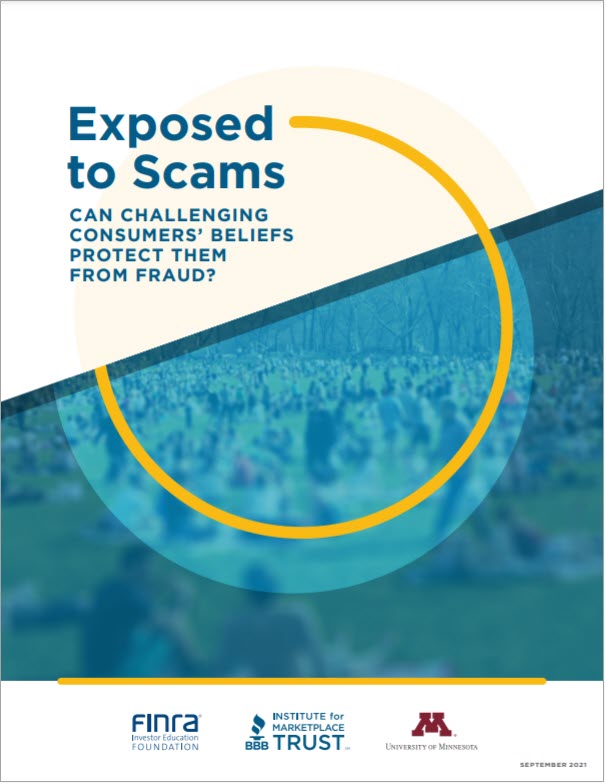 Through the analyses of in-depth interviews with 17 people who recounted their experiences with fraud attempts, the FINRA Foundation collaborated with the BBB Institute for Marketplace Trust, University of Minnesota and Federal Trade Commission to explore how differences in default ways of thinking – or mental frames – may make some people vulnerable to losing money to scams.
Can Educational Interventions Reduce Susceptibility to Financial Fraud?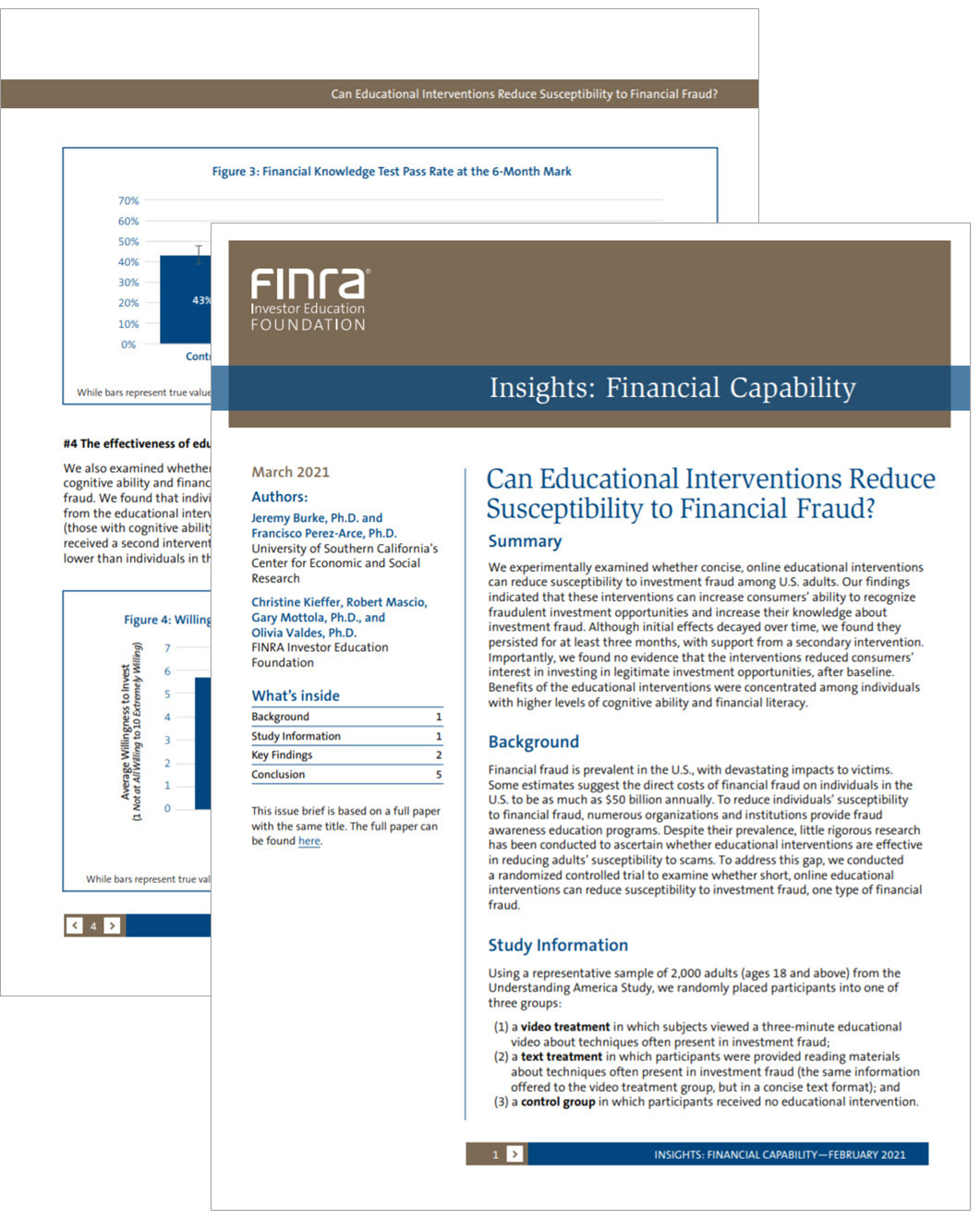 The FINRA Investor Education Foundation in collaboration with University of Southern California's Center for Economic and Social Research (CESR) experimentally examined the effectiveness of short, online educational interventions in reducing susceptibility to fraud. Our findings suggested that these interventions increase both consumers' ability to recognize fraudulent investment opportunities and their knowledge about investment fraud. While initial effects decayed over time, they persisted for at least three months with support from a secondary intervention.
Addressing the Challenge of Chronic Fraud Victimization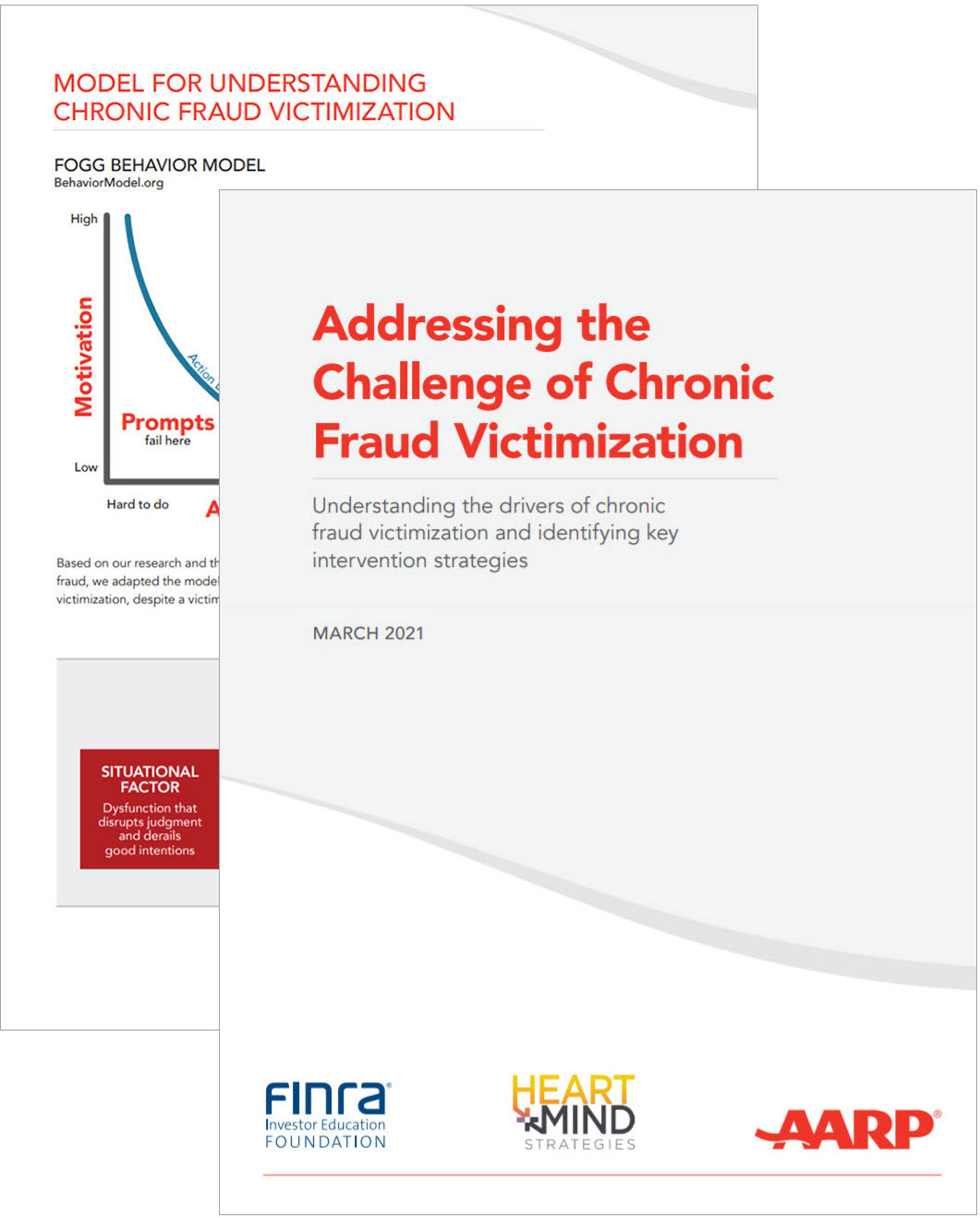 The FINRA investor Education Foundation and the AARP Fraud Watch Network engaged with Heart+Mind Strategies to examine the problem of chronic fraud victimization and how the Fogg Behavior Model can help illuminate and address the factors that contribute to victimization. Using this model, in conjunction with detailed interviews with victims and families of victims, we identified points of intervention that could serve to disrupt the cycle of chronic victimization.
Exposed To Scams: What Separates Victims From Non-Victims?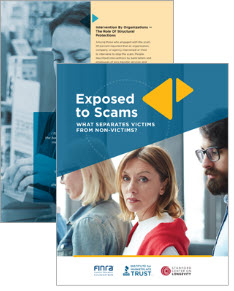 To better understand the fraud victimization process and craft better interventions to reduce fraud, the FINRA Foundation collaborated with the BBB Institute for Marketplace Trust, Stanford Center on Longevity and Federal Trade Commission to explore the cognitive, behavioral and attitudinal differences between victims and non-victims.
Measuring the Prevalence and Impact of Financial Fraud in the United States
The FINRA Foundation and the Stanford Center on Longevity, in collaboration with the U.S. Bureau of Justice Statistics, have developed and tested tools to aid the field in measuring the prevalence and impact of financial fraud on individuals in the U.S.
Framework for a Taxonomy of Fraud
The taxonomy of fraud is a fraud classification scheme designed to improve consistency in fraud measurement so that findings can reasonably be compared across time and across groups. (2015)

Findings from a Pilot Study to Measure Financial Fraud in the United States
This report details development and testing of a survey instrument based upon the taxonomy of fraud and designed to more accurately capture the prevalence rate of financial fraud in the U.S. (2017)

The Impact of Survey Context on Self-Reported Rates of Fraud Victimization
The "context"—defined as the survey title, stated purpose, and a set of prior questions—of a survey has an effect on whether respondents admit to being victims of fraud. (2014)
More FINRA Foundation Research on Understanding and Combating Fraud
Heightened Emotional States Increase Susceptibility to Fraud in Older Adults
Negative or positive emotional arousal may increase older adults' susceptibility to scams that involve emotional appeals. (2016)

Understanding and Combating Investment Fraud
Explore the dynamics of victimization, how fraudsters use influence tactics to defraud their victims, and more in this working paper for the Pension Research Council. (2016)

Non-Traditional Costs of Financial Fraud
Nearly two thirds of self-reported financial fraud victims experienced at least one non-financial cost of fraud to a serious degree. (2015)

Financial Fraud And Fraud Susceptibility In the U.S.
The ubiquity of fraud solicitations, coupled with the inability of many people to recognize the red flags of fraud, place a large number of Americans at risk of losing money to scams. (2013)