These research studies explore different elements of financial capability, including the financial knowledge, resources and habits of Americans.
They Just Add Up: Combined Math and Financial Knowledge Tied to Better Financial Outcomes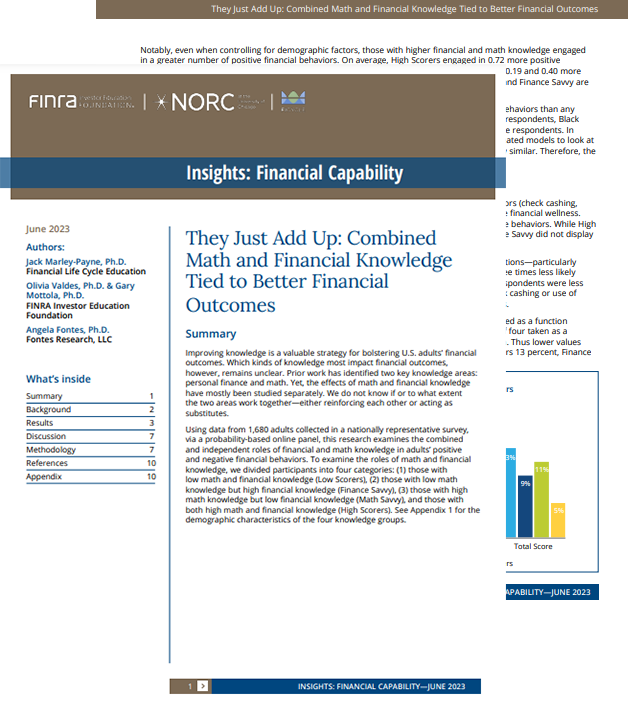 This study by FiCycle, NORC at the University of Chicago, and the Foundation examines the joint roles that math and financial knowledge play on people's financial outcomes. The findings indicate that those with high math and financial knowledge report more positive financial outcomes and fewer negative financial outcomes than those with high knowledge in only one (or neither) domain.
Gen Z and Investing: Social Media, Crypto, FOMO, and Family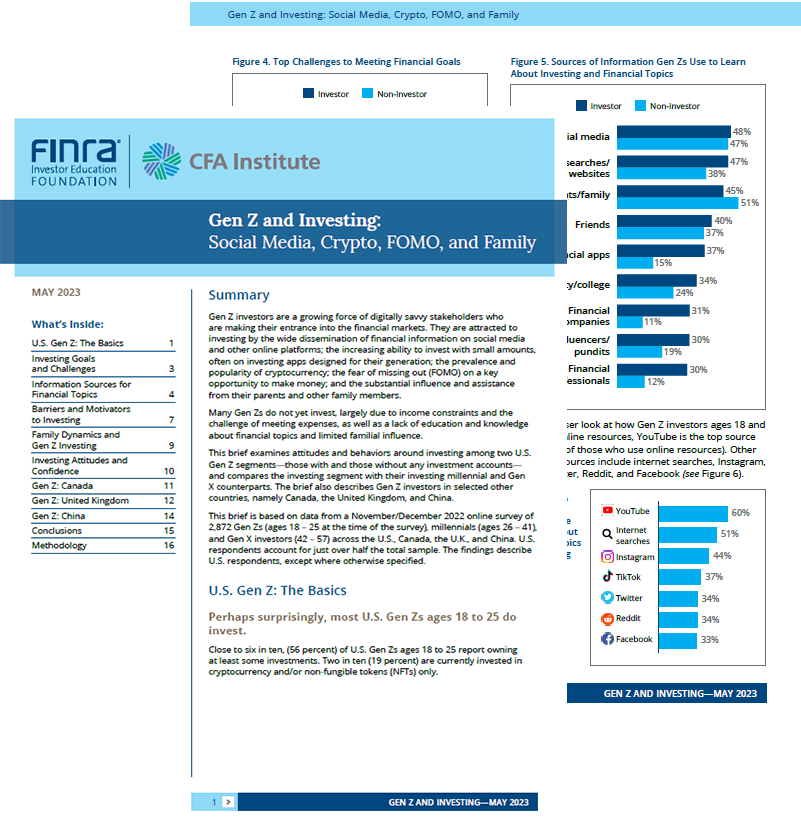 In this study, the FINRA Foundation and CFA Institute examine the behaviors, influences, information sources, perceptions, and attitudes of Gen Z investors (ages 18-25 at the time of the survey) relative to millennial investors and Gen X investors.
Hidden Disparities: A Closer Look at the Financial Vulnerability of AAPI Adults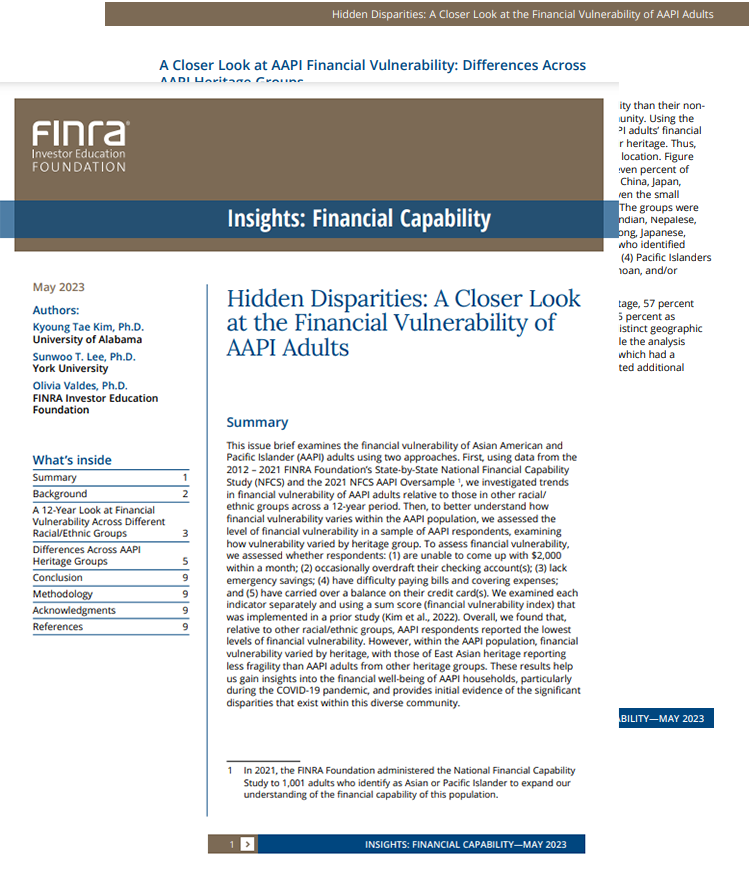 This study uses data from the NFCS to examine the financial vulnerability of AAPI adults, in the aggregate and across different heritages within the AAPI population. The findings suggest that wide disparities in financial vulnerability are found in different heritage groups.
Where Are They Now? Following Up With the New Investors of 2020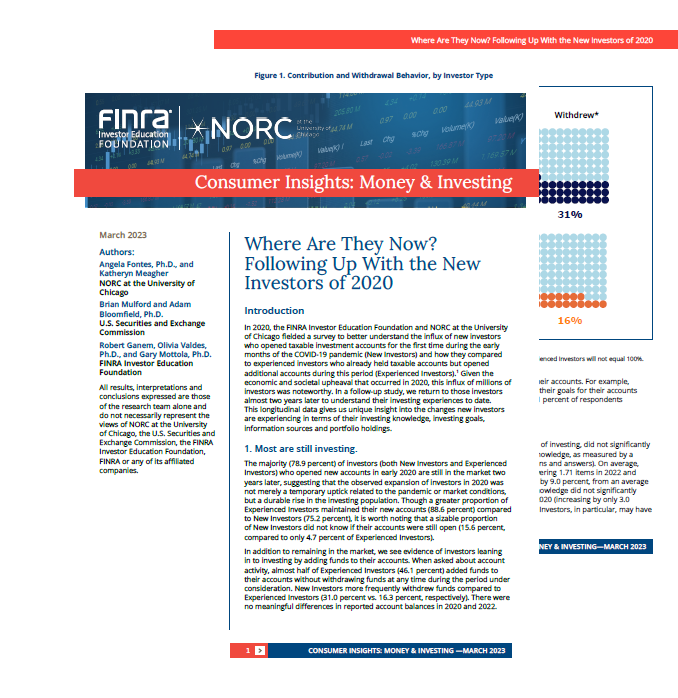 This study examines the changes that investors who began investing in 2020 experienced two years later, in 2022. The longitudinal data provides insights into shifts in new investors' knowledge, goals, information sources, and portfolio holdings.
A Closer Look at the Financial Capability of Hispanic Adults in the United States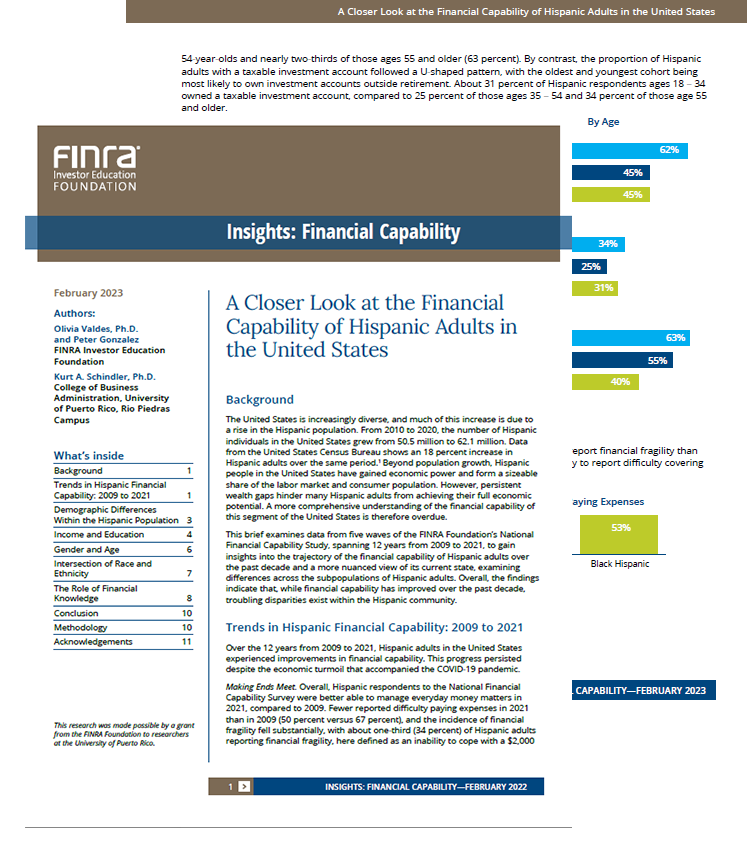 This study examined Hispanic adults' management of everyday money matters, debt, wealth building practices and financial knowledge. The results indicate that, overall, financial capability for Hispanic adults in the United States has increased over the past 12 years. However, the findings also suggest that within the Hispanic population, disparities remain by gender, age, racial identity, education, and income.
Testing Positive: The Financial Strain of COVID-19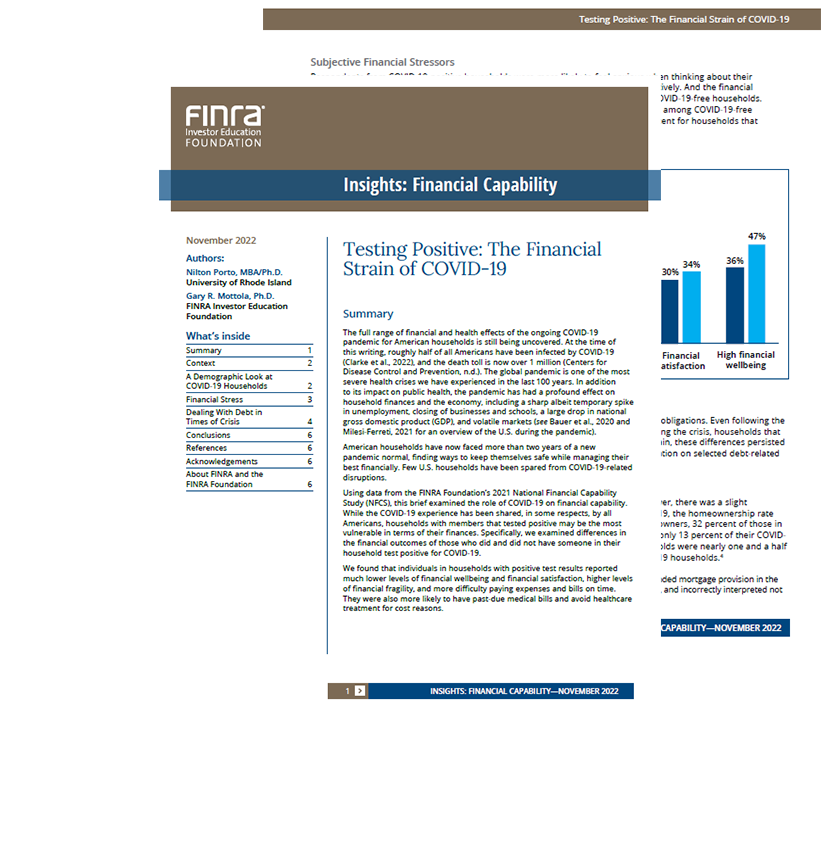 This brief examined the role of COVID-19 on U.S. adults' financial capability—comparing the financial capability of households who experienced a positive COVID-19 test to households that did not. The data clearly show that those in COVID-19 households struggled far more financially than individuals in non-COVID-19 households. The COVID-19-positive households in our sample can be described as those with early infection—that is, reporting an infection between June 2021 and October 2021 when the U.S. and the world were grappling with pandemic-related restrictions, mandates, and economic shocks.
Why Is Measured Financial Literacy Declining and What Does It Mean? Maybe We Just "Don't Know."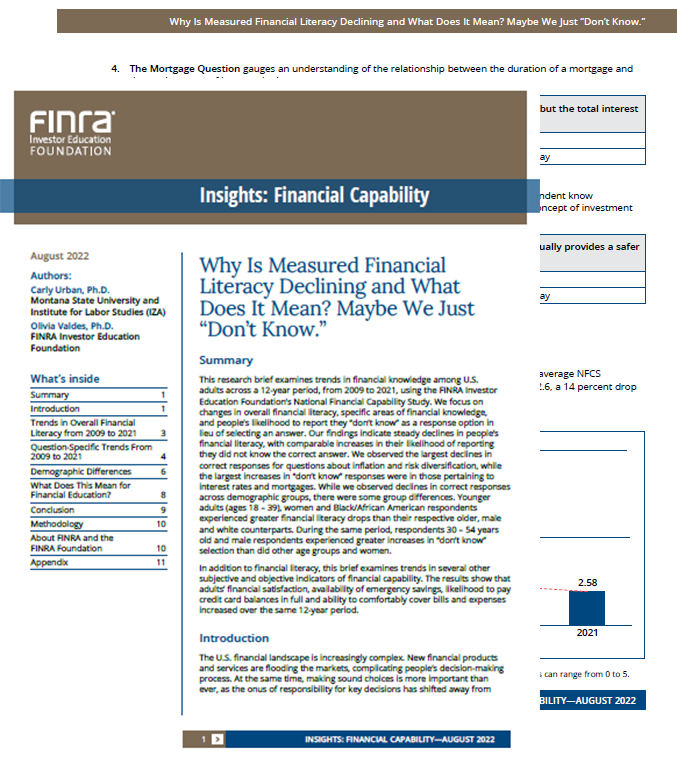 This research examines data from the 2009 to 2018 waves of the National Capability Study to examine trends in financial literacy. The findings indicated that measured financial literacy declined over the 12-year period. Most of the decline resulted from a rise in respondents reporting they "don't know" the answers to the underlying questions. The study also found that despite declines in measured financial literacy, several indicators of financial capability improved over the same period.
Financial Education Matters: Testing the Effectiveness of Financial Education Across 76 Randomized Experiments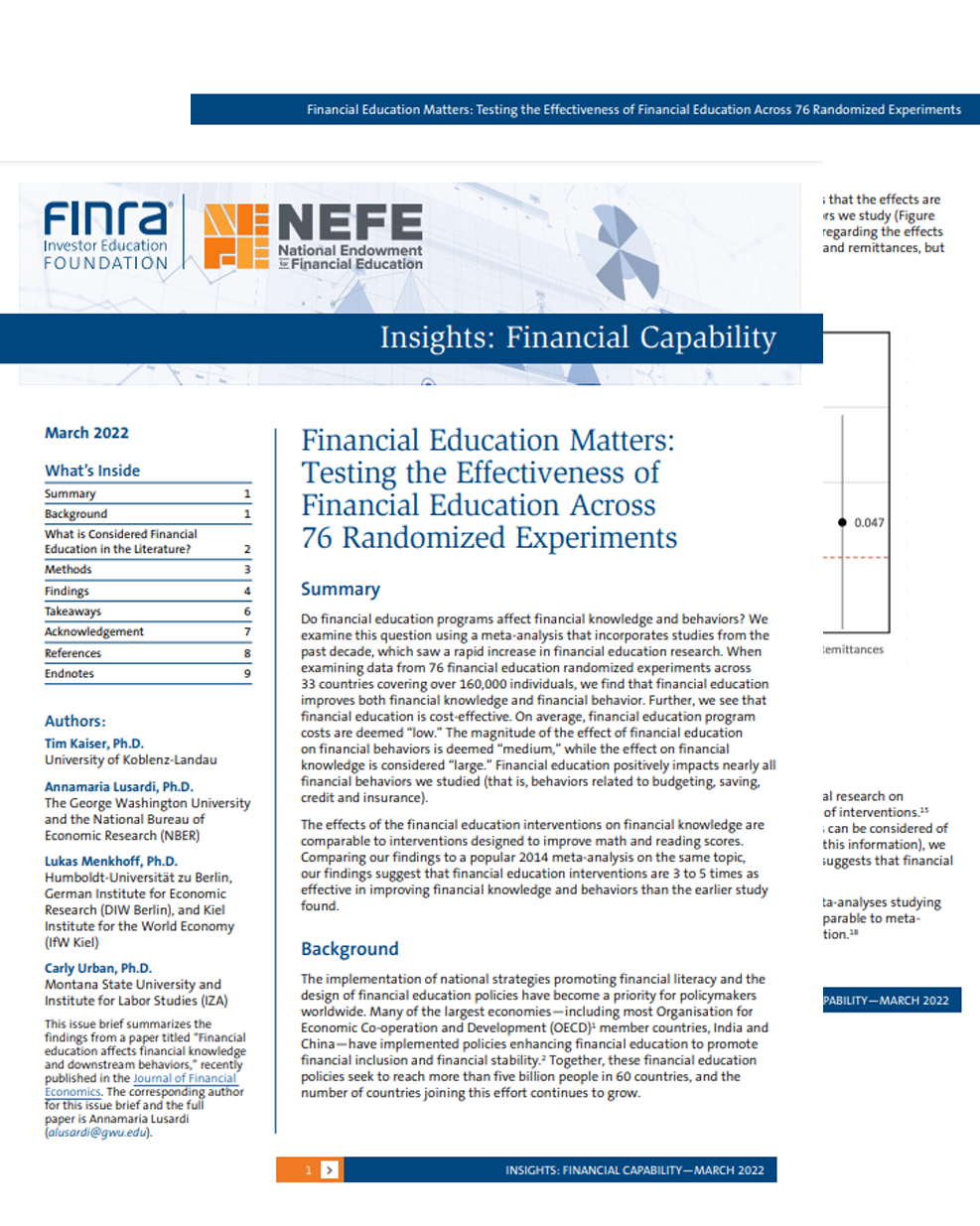 This meta-analysis examines data from 76 randomized financial education experiments across 33 different countries covering over 160,000 people. The findings suggest that financial education is cost-effective and produces large effects on financial knowledge and medium effects on financial behavior.
Bridging the Divide: A Closer Look at Changes in the Racial and Ethnic Composition of Investor Households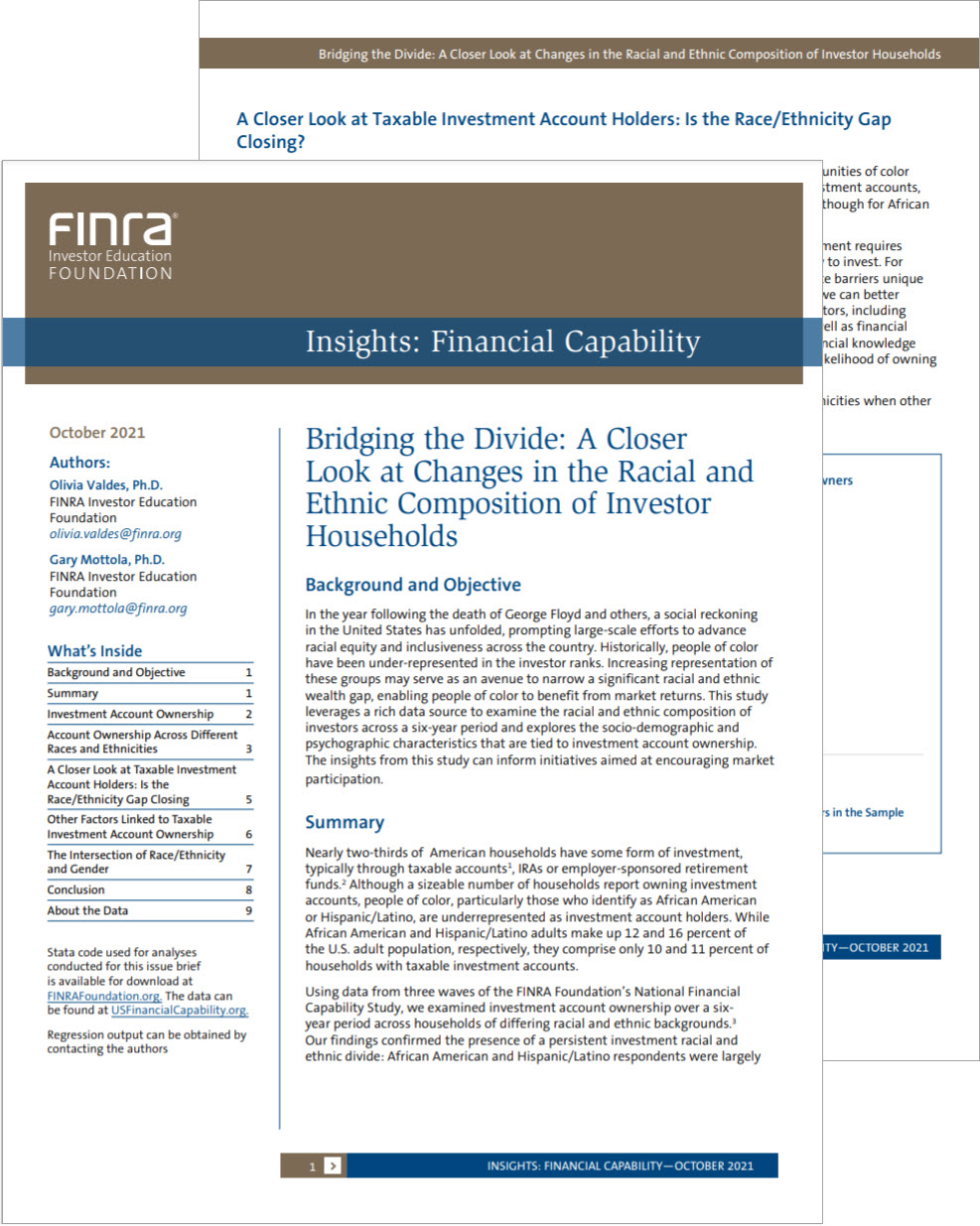 This research explores the racial and ethnic composition of investors over a six-year period, from 2012 to 2018. The findings suggest that African American and Hispanic/Latino adults continue to be under-represented in the investor ranks. However, after controlling for sociodemographic variables, the gap in the likelihood of owning a taxable investment account between white and African American and Hispanic/Latino adults closes substantially. However, troubling gaps remain, with the likelihood of African American and Hispanic/Latina women owning a taxable investment account much lower than that of white men.
Recent Trends in Patient out-of-Pocket Cost Sharing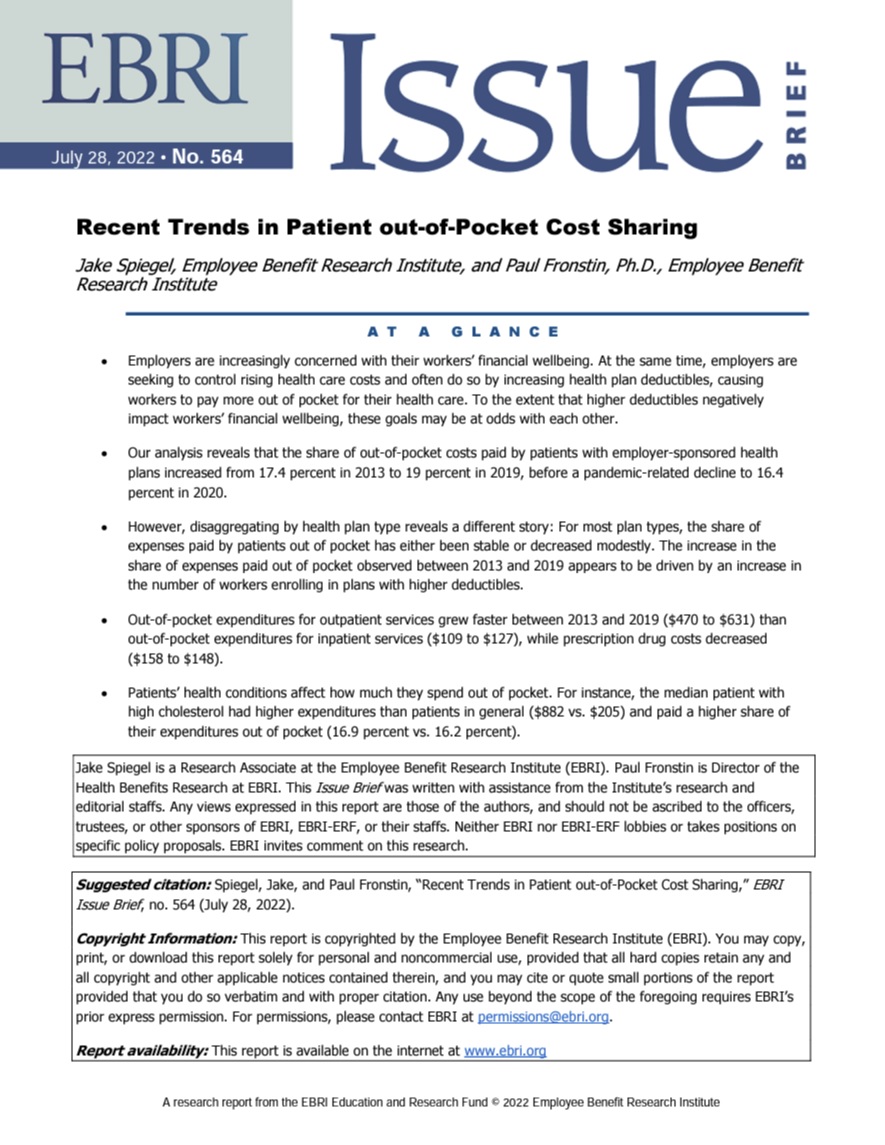 This study by the Employee Benefit Research Institute (EBRI) funded by the FINRA Foundation analyzes data from over 45 million patients covered by employer-sponsored health care plans to examine how out-of-pocket healthcare spending is trending in aggregate and by type of health plan. The study finds that the share of out-of-pocket costs paid by patients increased from 2013 to 2019. The increase appears to be driven by the growing number of workers enrolling in plans with higher deductibles, not by changes in cost-sharing.
Bitter Pill: A Demographic Analysis of Unpaid Medical Bills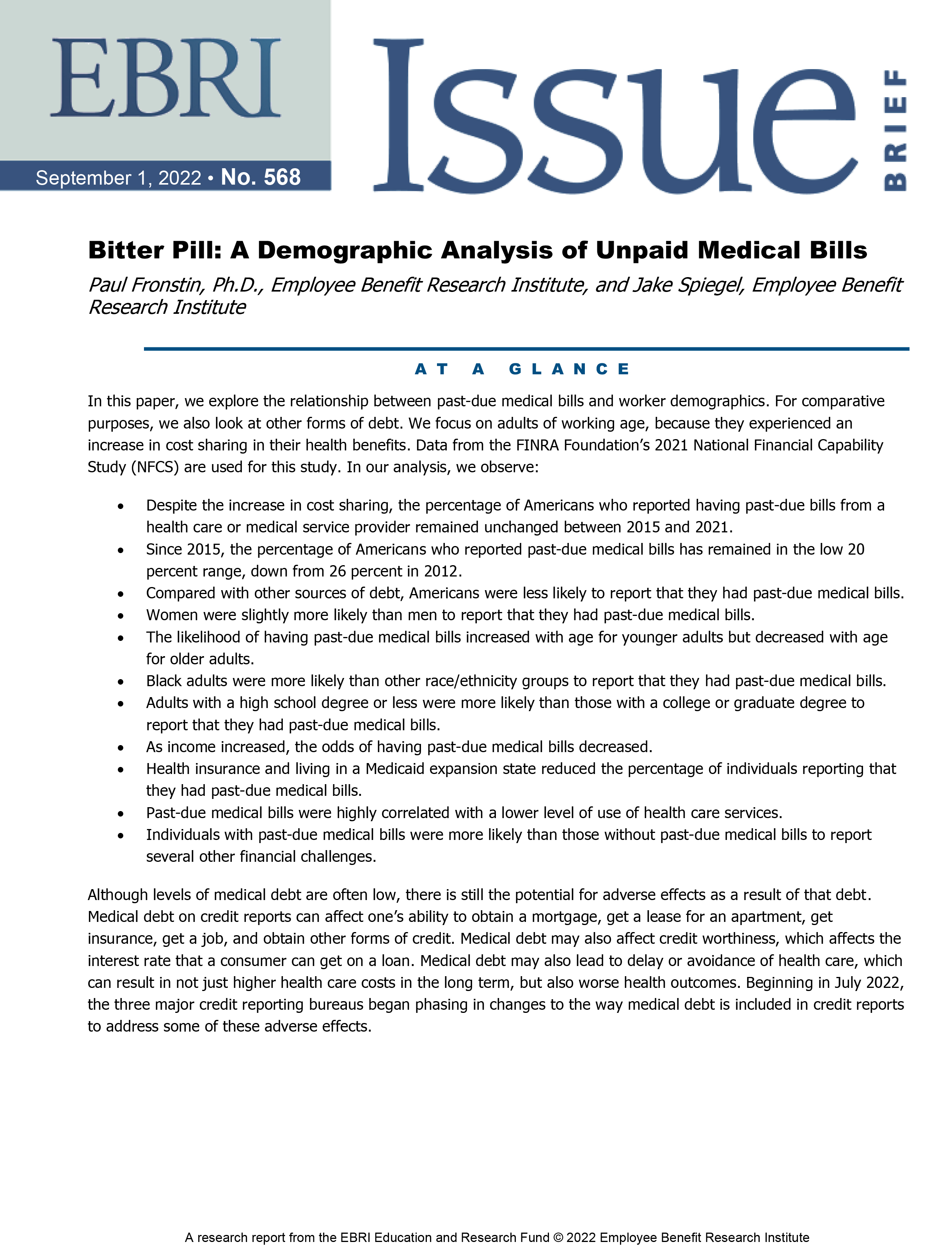 This issue brief, funded by the FINRA Foundation and conducted by the Employee Benefit Research Institute (EBRI), explores the relationship between past-due medical bills and worker demographics using data from the 2021 National Financial Capability Study (NFCS). The findings indicate that despite increases in cost sharing, the percentage of Americans who reported having past-due medical bills remained unchanged between 2015 and 2021. However, controlling for demographics revealed that women, black adults, and adults with a high school diploma or less were more likely than their demographic counterparts to report having past due medical debt.
What We Leave Behind: Financial Education and Estate Planning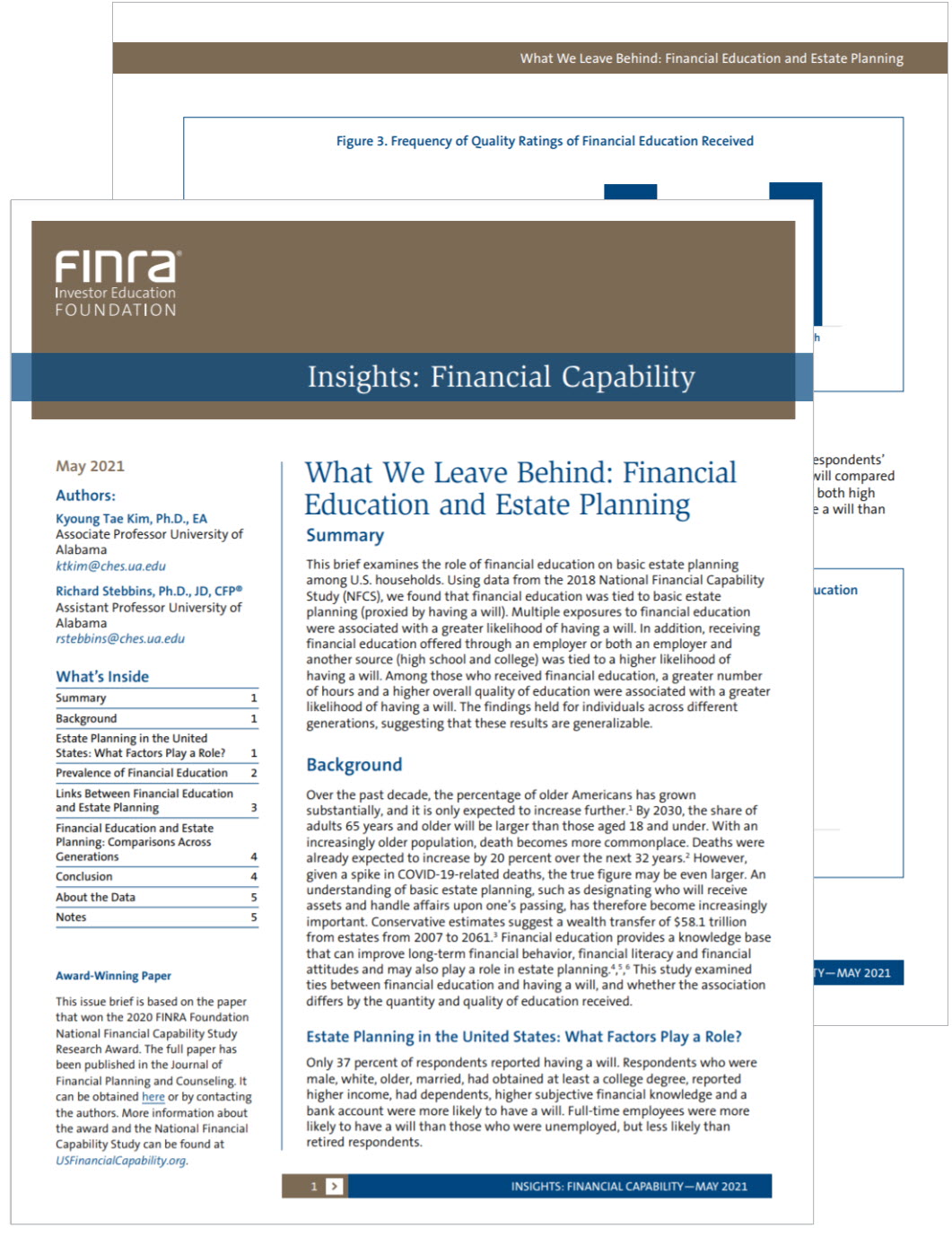 This 2020 award-winning submission by Dr. Richard Stebbins and co-authored by Dr. Kyoung Tae Kim at the University of Alabama used data from the 2018 National Financial Capability Study to examine the association between financial education and basic estate planning. The findings indicated that more and better quality financial education is associated with a greater likelihood of having a will.
Financial Anxiety and Stress Among U.S. Adults: New Evidence from a National Survey and Focus Groups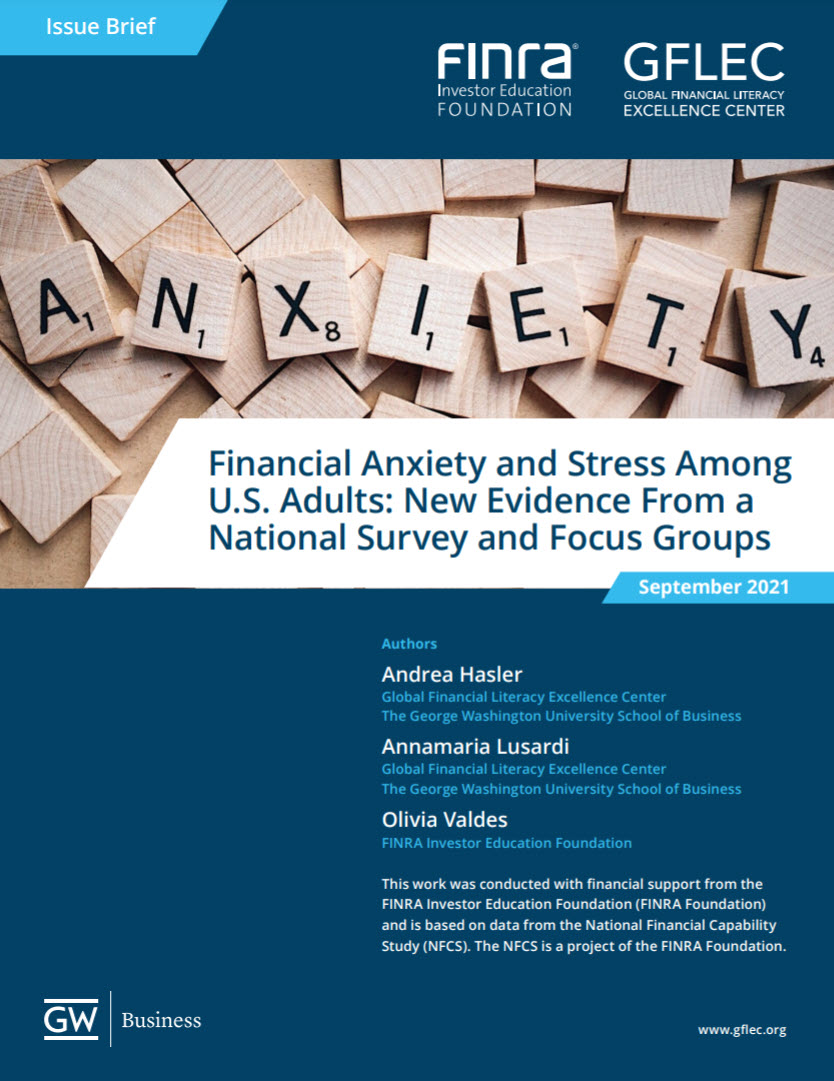 This study from the Global Financial Literacy Excellence Center (GFLEC) and the FINRA Foundation found that a large share of U.S adults feel stress and anxiety in relation to their personal finances. Findings from the 2018 National Financial Capability Study were complemented with focus group discussions from late 2020. Financial stress and anxiety were prominent in women, younger adults, those with lower-incomes, and individuals low levels of financial literacy.
Bouncing Back? The Financial Resilience of Americans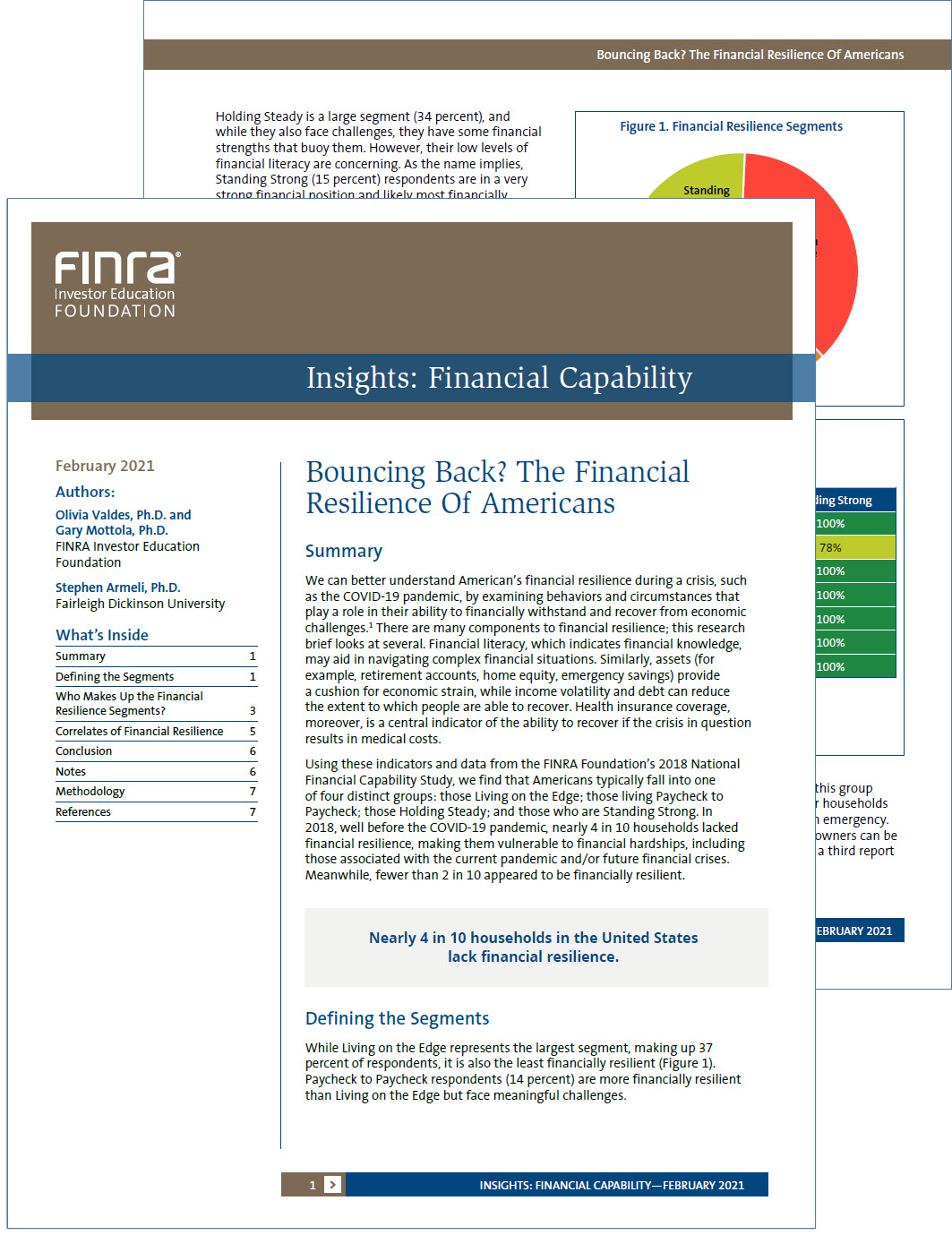 This research from 2018 shows that Americans typically fall into one of four distinct groups of financial resilience: those Living on the Edge; those living Paycheck to Paycheck; those Holding Steady; and those who are Standing Strong. Nearly 4 in 10 households lacked financial resilience, while fewer than 2 in 10 appeared to be financially resilient.
The Stability and Predictive Power of Financial Literacy: Evidence From Longitudinal Data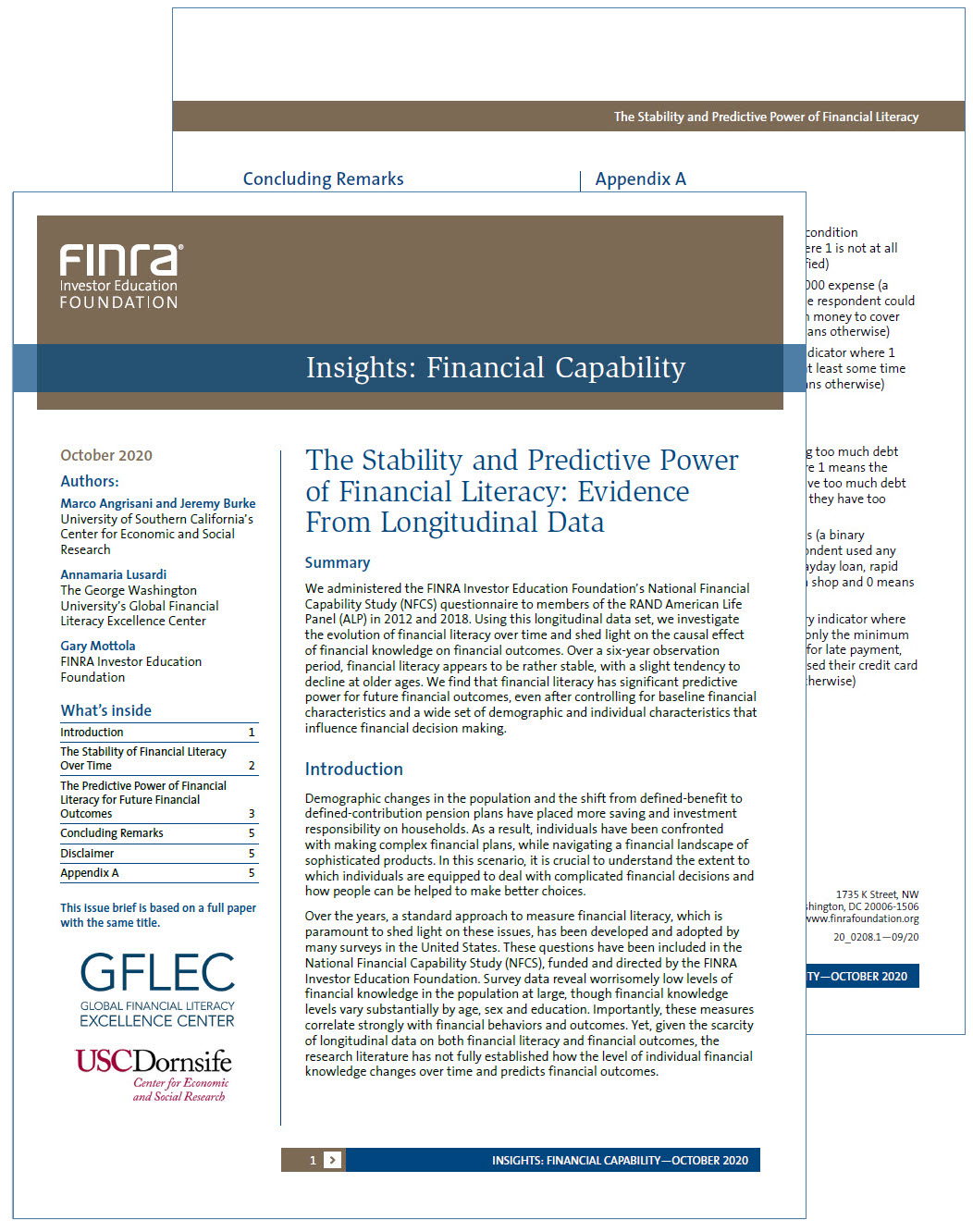 This study from the FINRA Foundation, the University of Southern California, and George Washington University found that financial literacy measured in 2012 predicts financial outcomes in 2018.