Using data from the ongoing National Financial Capability Study, these research studies explore different elements of financial capability, including the financial knowledge, resources and habits of Americans.
Financial Education Matters: Testing the Effectiveness of Financial Education Across 76 Randomized Experiments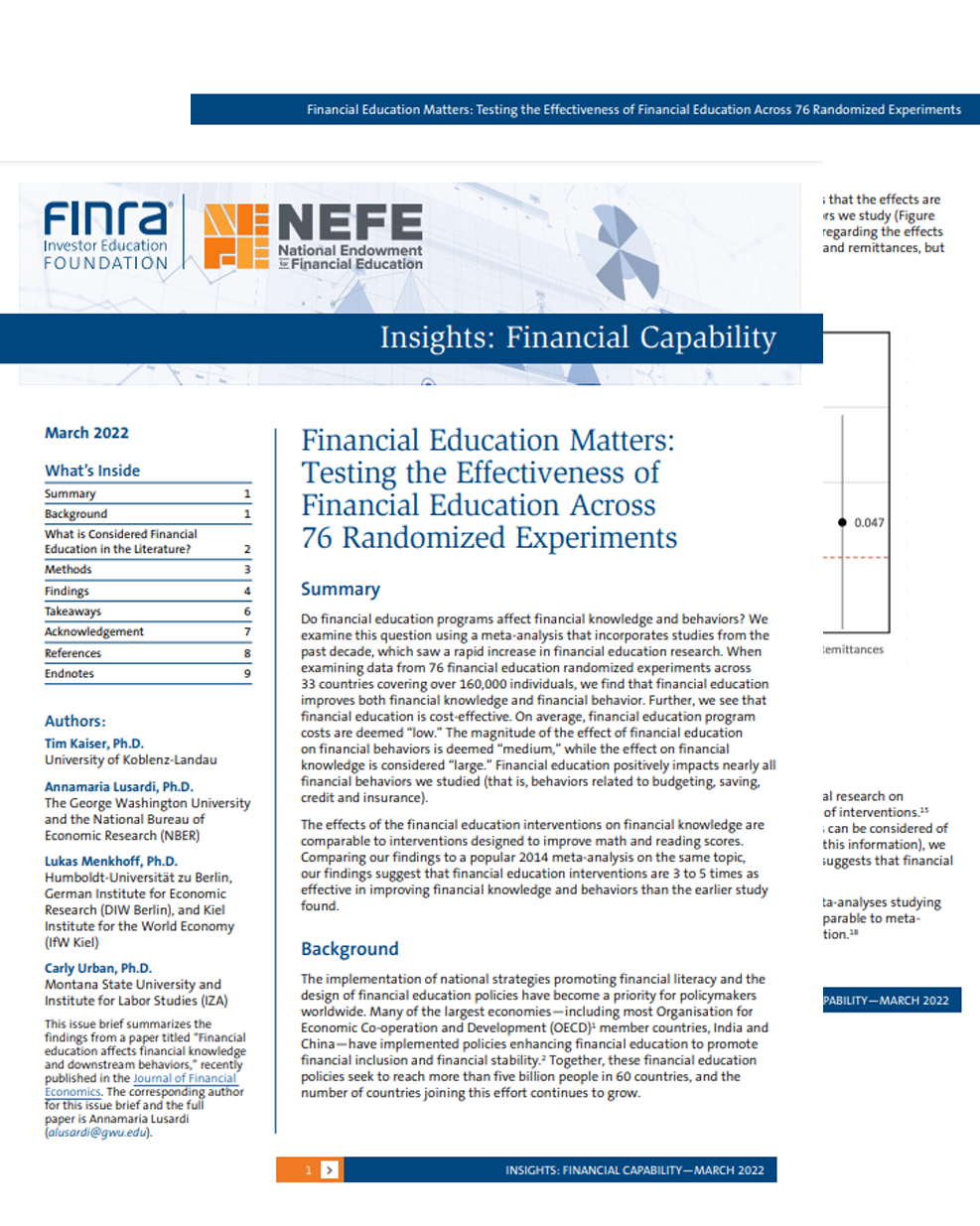 This meta-analysis examines data from 76 randomized financial education experiments across 33 different countries covering over 160,000 people. The findings suggest that financial education is cost-effective and produces large effects on financial knowledge and medium effects on financial behavior.
Bridging the Divide: A Closer Look at Changes in the Racial and Ethnic Composition of Investor Households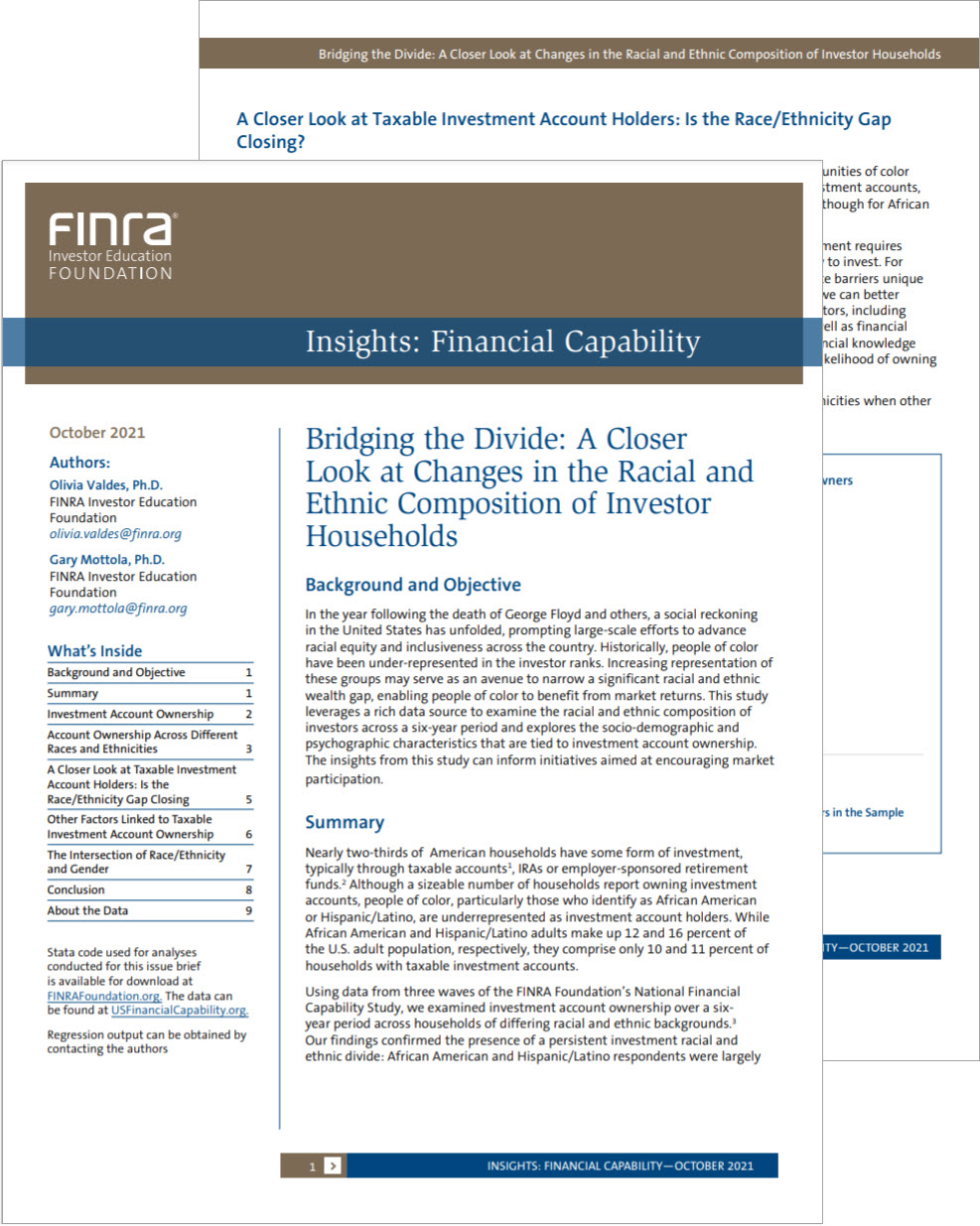 This research explores the racial and ethnic composition of investors over a six-year period, from 2012 to 2018. The findings suggest that African American and Hispanic/Latino adults continue to be under-represented in the investor ranks. However, after controlling for sociodemographic variables, the gap in the likelihood of owning a taxable investment account between white and African American and Hispanic/Latino adults closes substantially. However, troubling gaps remain, with the likelihood of African American and Hispanic/Latina women owning a taxable investment account much lower than that of white men.
What We Leave Behind: Financial Education and Estate Planning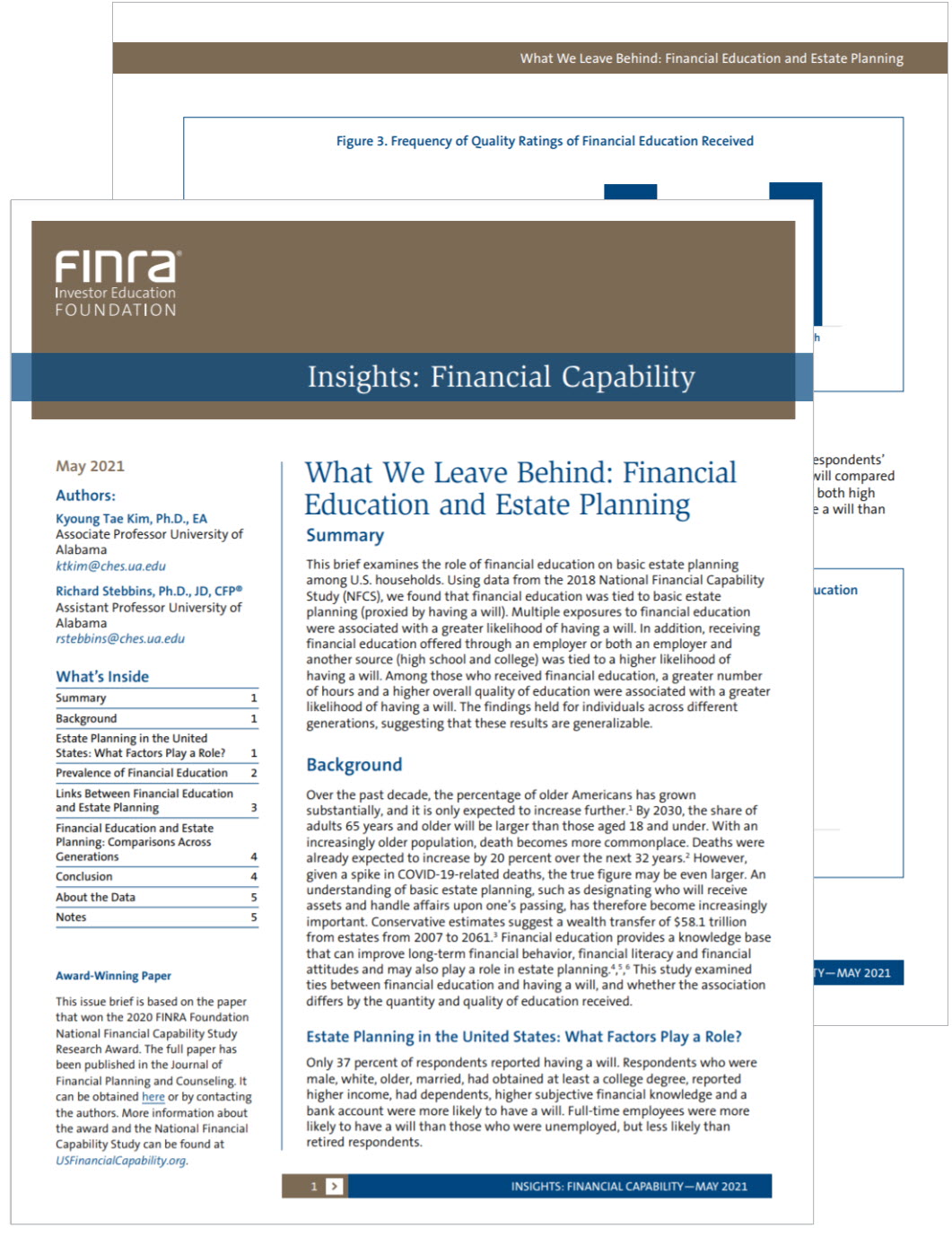 This 2020 award-winning submission by Dr. Richard Stebbins and co-authored by Dr. Kyoung Tae Kim at the University of Alabama used data from the 2018 National Financial Capability Study to examine the association between financial education and basic estate planning. The findings indicated that more and better quality financial education is associated with a greater likelihood of having a will.
Financial Anxiety and Stress Among U.S. Adults: New Evidence from a National Survey and Focus Groups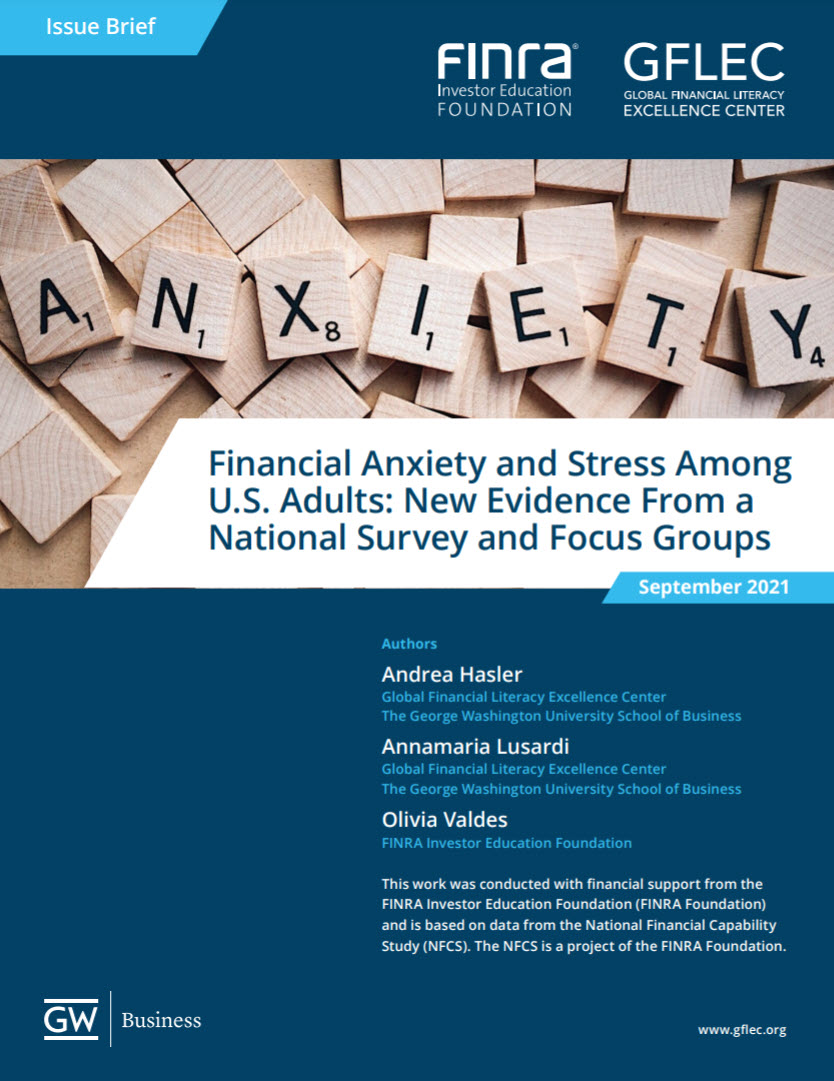 This study from the Global Financial Literacy Excellence Center (GFLEC) and the FINRA Foundation found that a large share of U.S adults feel stress and anxiety in relation to their personal finances. Findings from the 2018 National Financial Capability Study were complemented with focus group discussions from late 2020. Financial stress and anxiety were prominent in women, younger adults, those with lower-incomes, and individuals low levels of financial literacy.
Bouncing Back? The Financial Resilience of Americans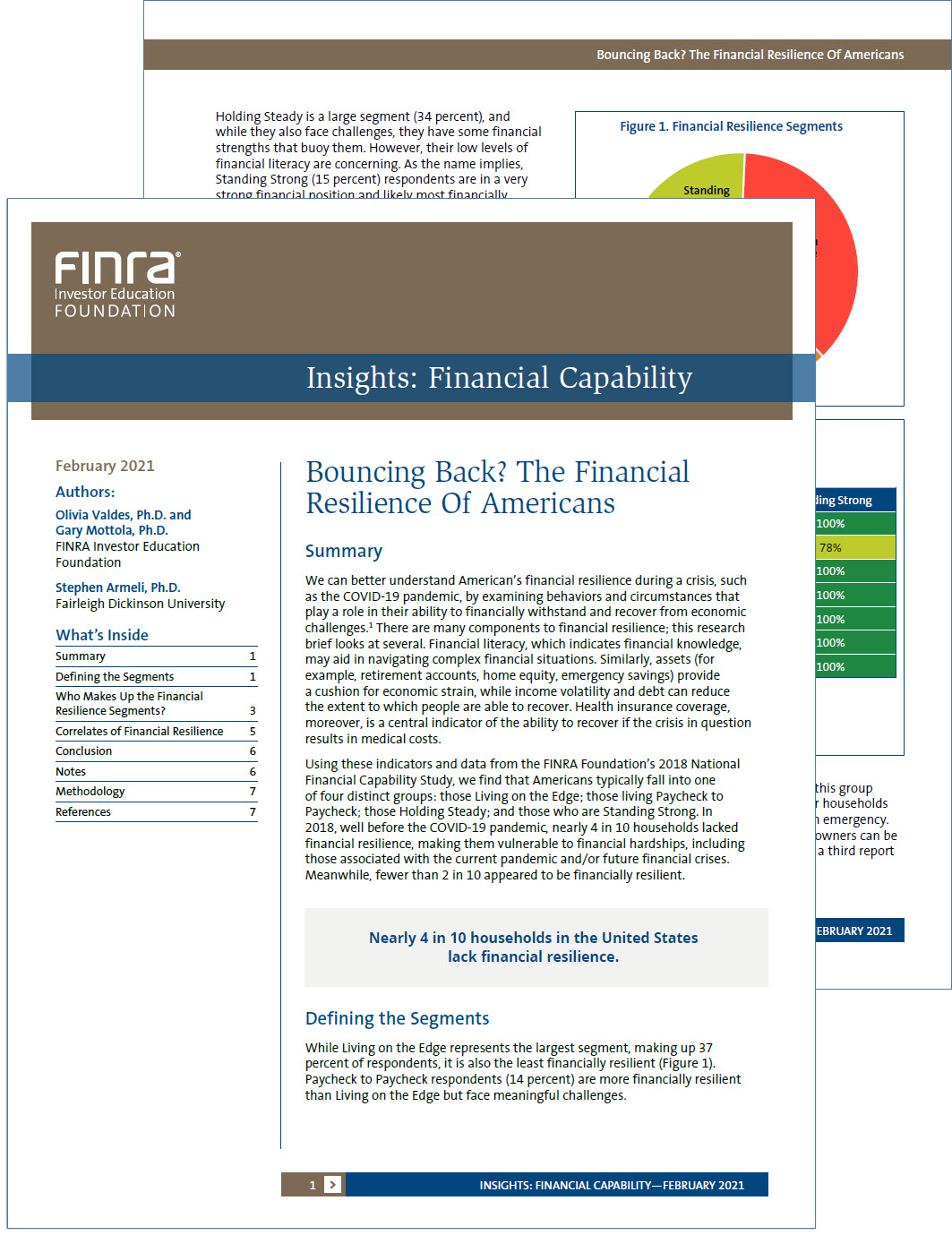 This research from 2018 shows that Americans typically fall into one of four distinct groups of financial resilience: those Living on the Edge; those living Paycheck to Paycheck; those Holding Steady; and those who are Standing Strong. Nearly 4 in 10 households lacked financial resilience, while fewer than 2 in 10 appeared to be financially resilient.
The Stability and Predictive Power of Financial Literacy: Evidence From Longitudinal Data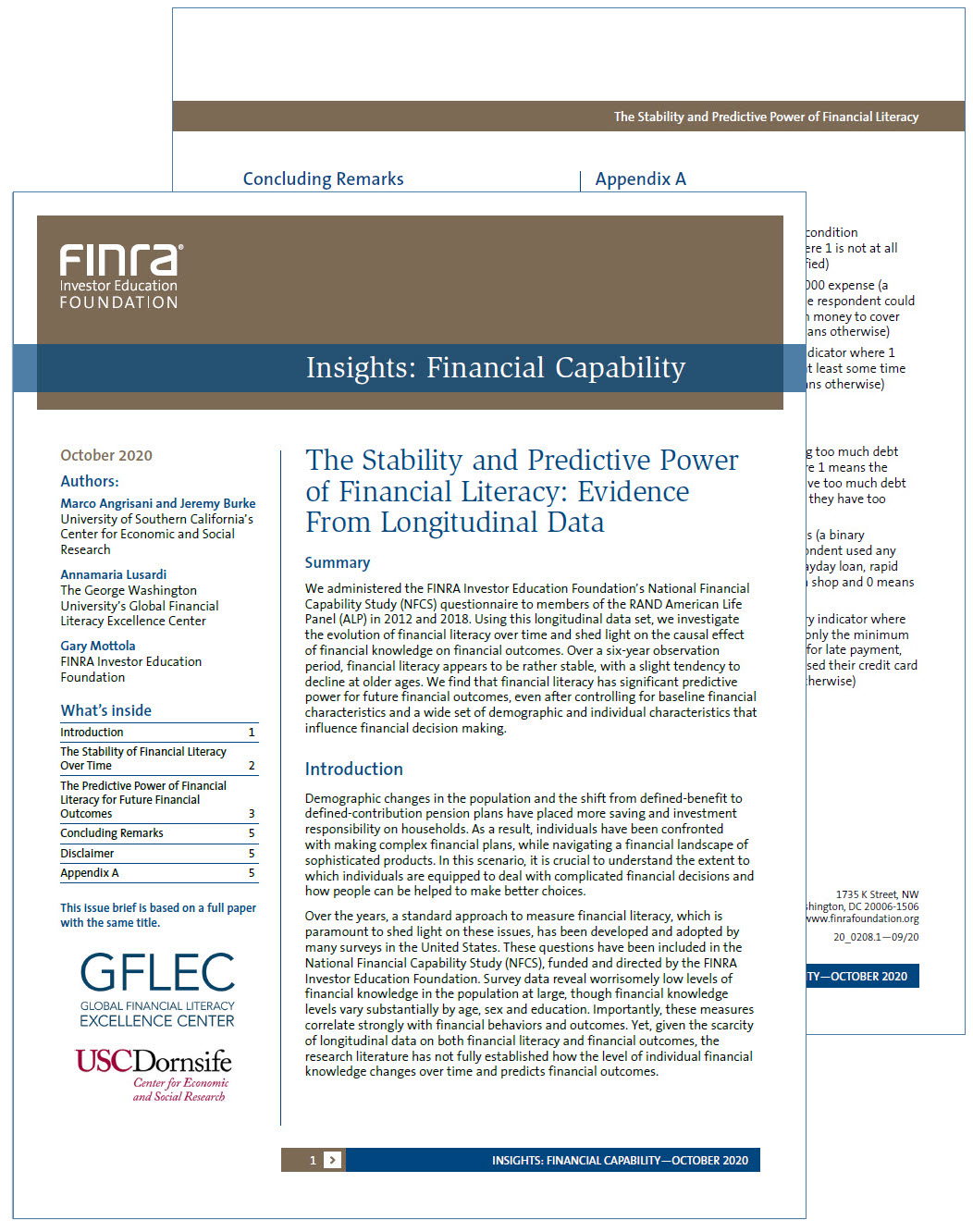 This study from the FINRA Foundation, the University of Southern California, and George Washington University found that financial literacy measured in 2012 predicts financial outcomes in 2018.