The FINRA Foundation seeks to foster new understanding and relationships that address systemic wealth disparities and lead to better outcomes for communities of color and underserved communities. In support of this goal, we conduct and sponsor research that examines timely personal finance and investing topics through the lens of diversity, inclusion, and equity.
Featured Studies
A Closer Look at the Financial Capability of Hispanic Adults in the United States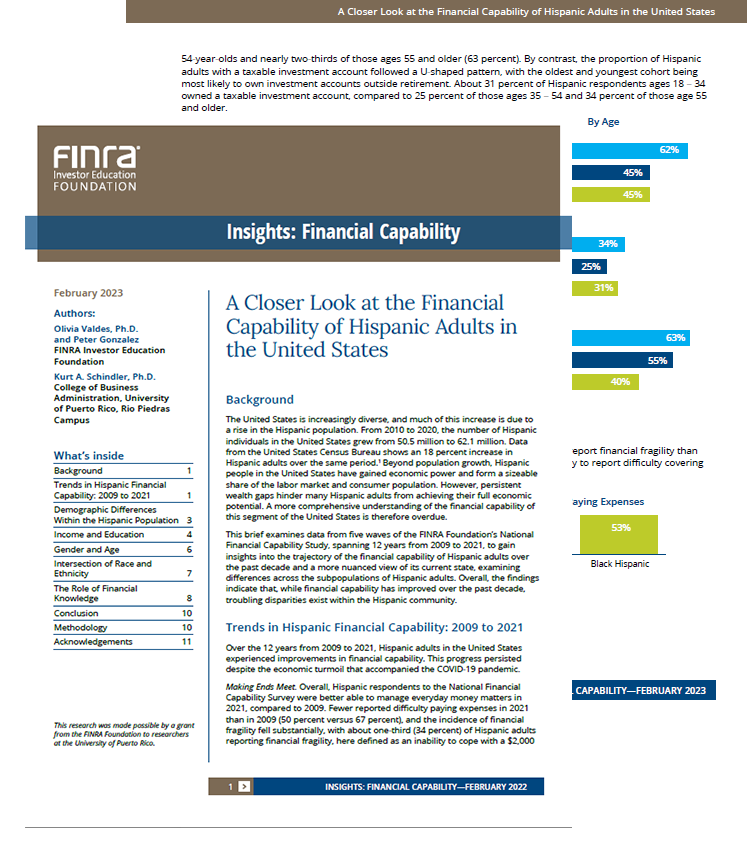 This study examined Hispanic adults' management of everyday money matters, debt, wealth building practices and financial knowledge. The results indicate that, overall, financial capability for Hispanic adults in the United States has increased over the past 12 years. However, the findings also suggest that within the Hispanic population, disparities remain by gender, age, racial identity, education, and income.
Testing Positive: The Financial Strain of COVID-19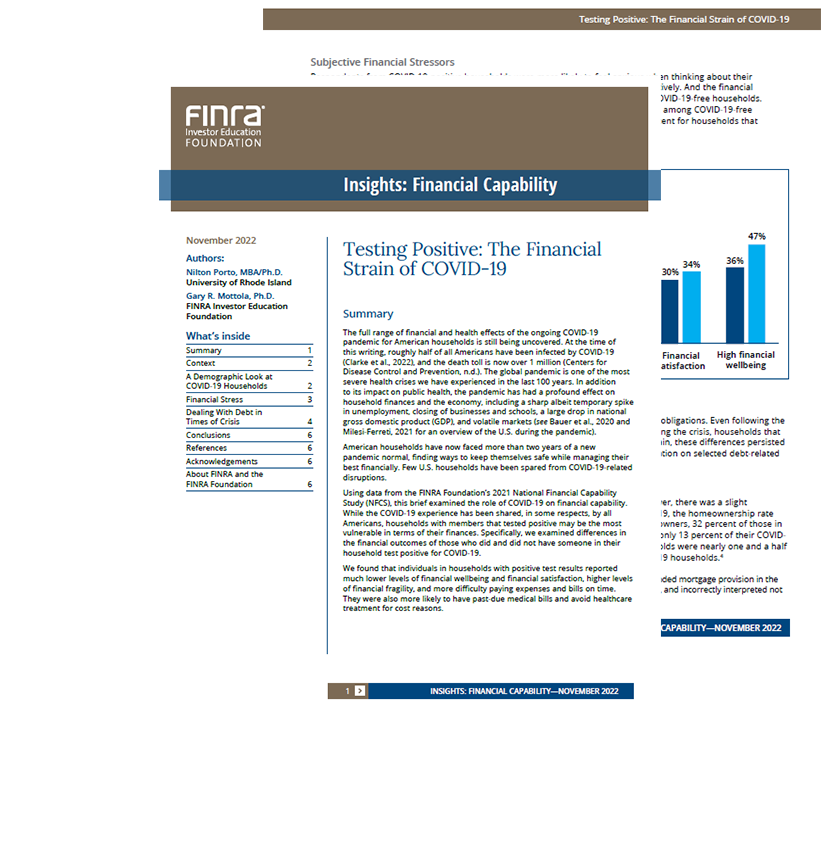 This brief examined the role of COVID-19 on U.S. adults' financial capability—comparing the financial capability of households who experienced a positive COVID-19 test to households that did not. The data clearly show that those in COVID-19 households struggled far more financially than individuals in non-COVID-19 households. The COVID-19-positive households in our sample can be described as those with early infection—that is, reporting an infection between June 2021 and October 2021 when the U.S. and the world were grappling with pandemic-related restrictions, mandates, and economic shocks.
Bridging the Divide: A Closer Look at Changes in the Racial and Ethnic Composition of Investor Households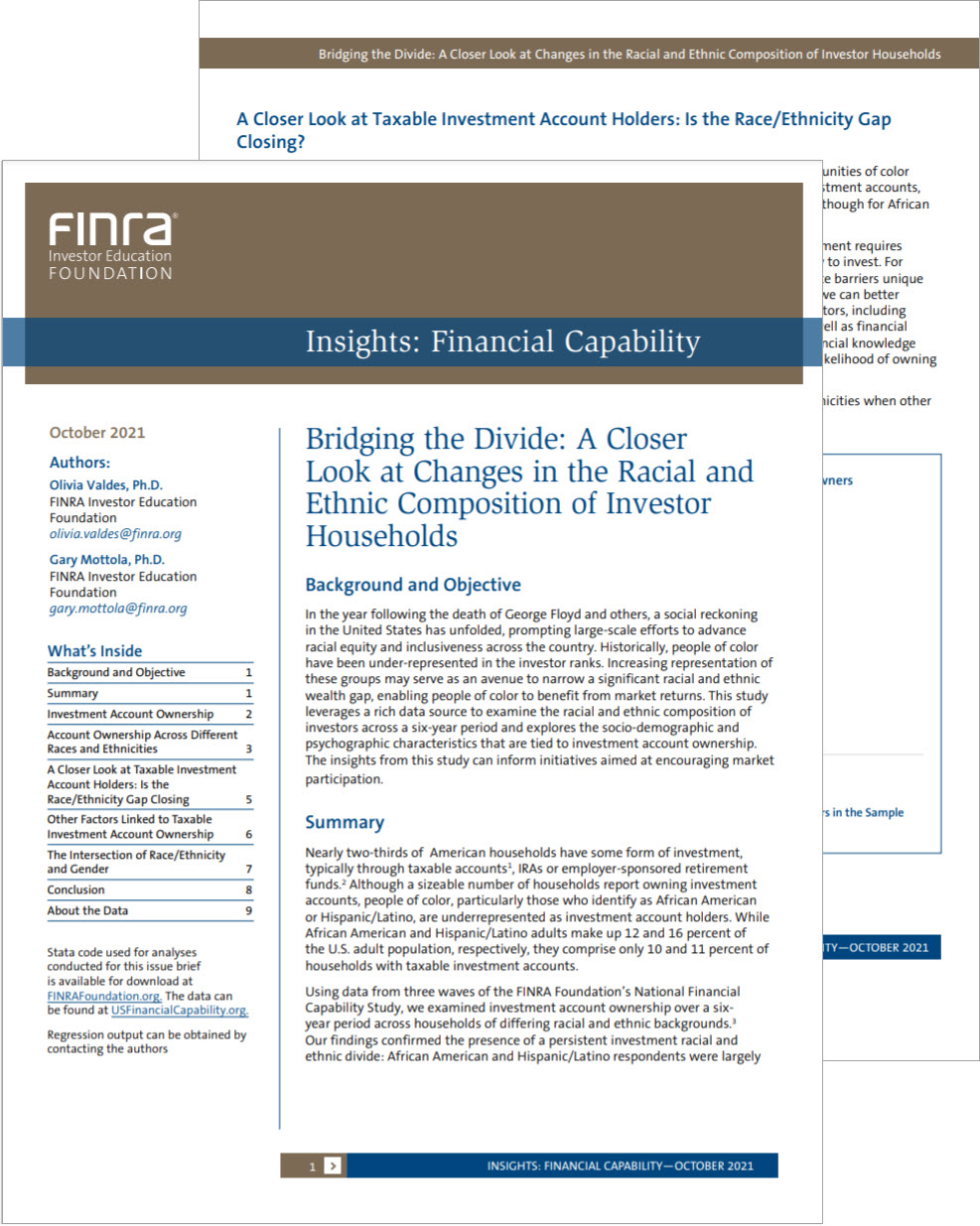 This research explores the racial and ethnic composition of investors over a six-year period, from 2012 to 2018. The findings suggest that African American and Hispanic/Latino adults continue to be under-represented in the investor ranks. However, after controlling for sociodemographic variables, the gap in the likelihood of owning a taxable investment account between white and African American and Hispanic/Latino adults closes substantially. However, troubling gaps remain, with the likelihood of African American and Hispanic/Latina women owning a taxable investment account much lower than that of white men. (2021)
Financial Anxiety and Stress among U.S. Households: New Evidence from a National Survey and Focus Groups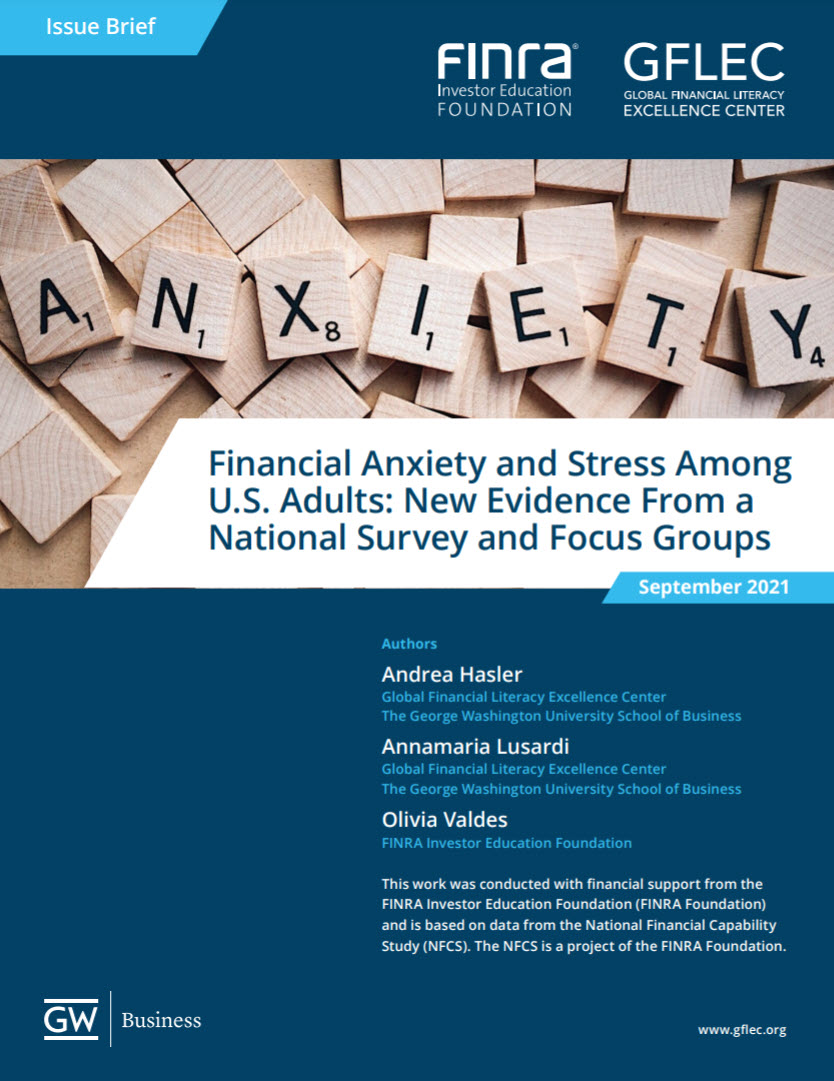 A substantial number of adults in the United States between the ages of 21 and 62 felt anxiety and stress about their personal finances well before the onset of the COVID-19 pandemic. Researchers found that financial stress and anxiety are highly linked to low levels of financial literacy, problematic financial behaviors and decreased financial security. (2021)
Bouncing Back? The Financial Resilience of Americans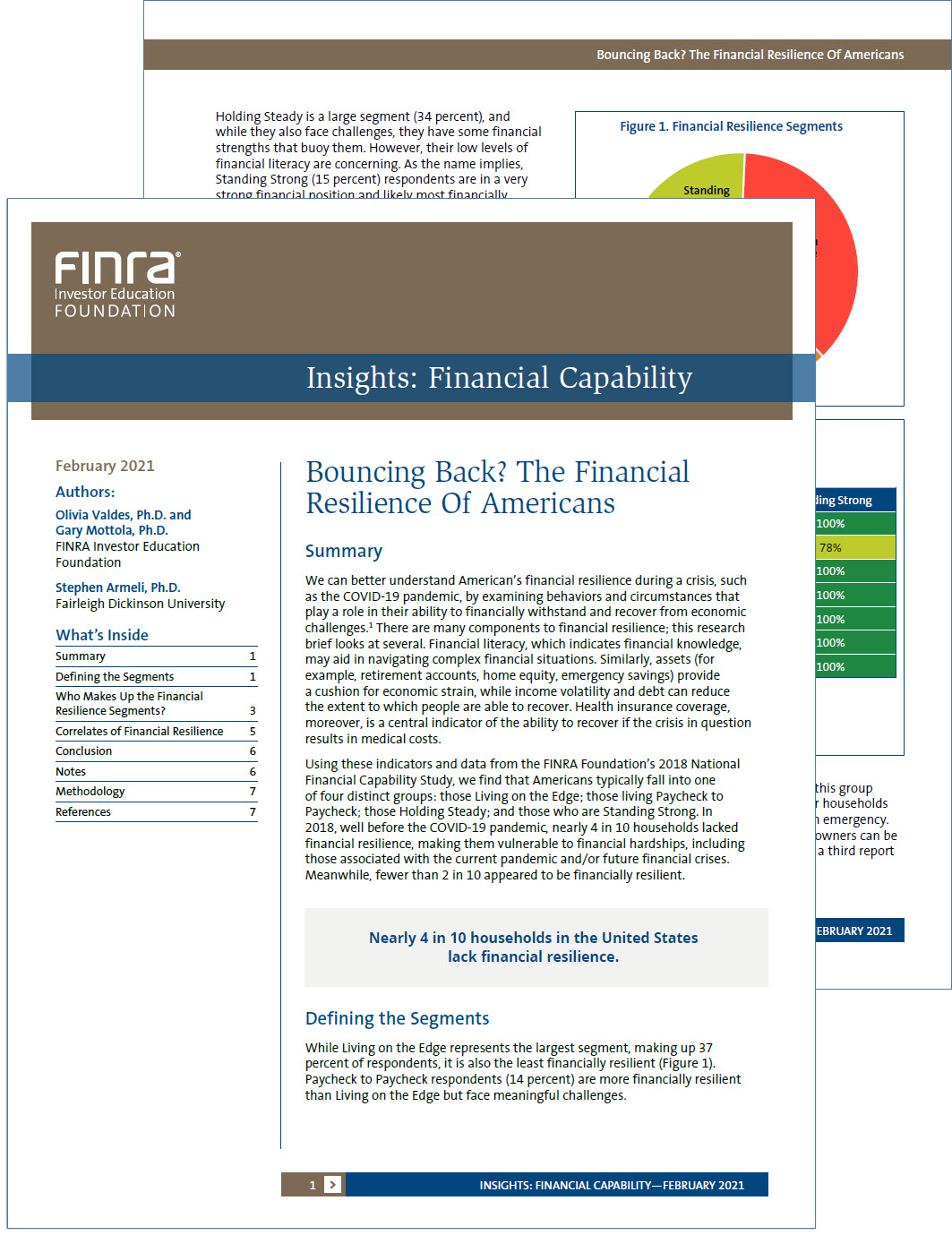 Well before the COVID-19 pandemic, nearly four in 10 households lacked financial resilience, making them vulnerable to financial hardships, including those associated with the current pandemic or future financial crises. Meanwhile, fewer than two in 10 households appeared to be financially resilient. (2021)
Investing 2020: New Accounts and the People Who Opened Them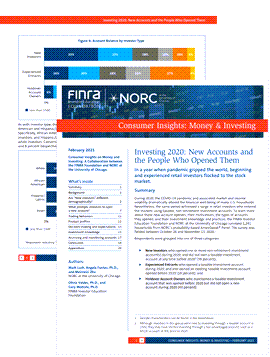 During 2020, the COVID-19 pandemic and associated market and income volatility dramatically altered the financial well-being of many U.S. households. Nevertheless, the same period witnessed a surge in retail investors who entered the markets using taxable, non-retirement investment accounts via online brokers. (2021)

More FINRA Foundation Research on Diversity, Equity, and Inclusion
African-American and Hispanic/Latino Responses to Pandemic-Related Volatility in the Stock Market
African-Americans and Hispanics/Latinos were less aware than whites of pandemic-related market volatility and had more uncertainty around how the market and their portfolio values might recover. (2020)
Gender and Financial Capability from Behind Bars
Incarcerated women relative to incarcerated men have higher poverty rates, lower financial literacy levels, and are more likely to use high-cost borrowing methods. (2020)

Mind the Gap: Women, Men, and Investment Knowledge
Female investors lag their male counterparts when it comes to investment knowledge and confidence. (2020)

New Evidence on the Financial Knowledge and Characteristics of Investors
Workplace-only investors, whose exposure to investment decisions comes solely through participation in an employer-sponsored retirement plan, are much less equipped to manage their investments. (2019)

The State of U.S. Financial Capability: The 2018 NFCS
The National Financial Capability Study measures perceptions, attitudes, experiences, and behaviors across a large, diverse sample to provide a comprehensive analysis. (2019)
Gender, Generation and Financial Knowledge: A Six-Year Perspective
To better understand the gender gap, the FINRA Foundation examined financial knowledge levels in America by gender and generation at three points in time over a six-year period. (2018)
Race and Financial Capability: The Native American Experience
Native Americans have higher levels of financial fragility and distress, and lower levels on many measures of financial capability, than other groups. (2017)

Financial Capability of Adults with Disabilities
This report reveals a comprehensive picture of how people with disabilities manage financial resources and make financial decisions. (2017)
A Snapshot of Investor Households in America
Certain demographic groups are significantly under-represented among investor households although these differences narrow after controlling for factors such as income, education, and age. (2015)
Financial Welfare of Military Households
Military members have better solvency and savings outcomes, but worse credit card outcomes, relative to comparable civilians. (2014)
Millennials in the Military—An Examination of Financial Capability
Among the military millennials, females and minorities display signs of lower financial capability compared to males and whites—but households with dependent children struggle the most. (2014)
American Renters and Financial Fragility
Given their financial fragility and low levels of financial literacy, the renter population could have a difficult time responding to income shocks and the financial consequences associated with them. (2014)
The Financial Capability of Young Adults—A Generational View
An examination of data from the NFCS found that millennials are struggling financially. (2014)