From law enforcement to consumer advocates, the FINRA Foundation has trained thousands to detect, prevent, and respond to financial fraud. Moreover, the Foundation and its partners are at the forefront of research to better understand the prevalence and types of financial frauds committed in the U.S., behavioral and neurological risk factors, and the effectiveness of interventions aimed at protecting consumers.
Resources for Fraud Fighters
Research on Understanding and Combating Financial Fraud
FINRA Foundation research examines factors that contribute to fraud victimization and scam susceptibility as well as interventions and preventative measures aimed at protecting consumers.
Training for Law Enforcement
Since 2012, the FINRA Foundation has partnered with the National White Collar Crime Center (NW3C) to deliver the Targeting Investment Fraud (TIF) training to law enforcement officers, investigators, and prosecutors. Topics include what constitutes a security, hallmarks of investment fraud schemes, investigative strategies for working with victims and perpetrators, and fraud prevention resources. Visit NW3C.org for the list of available TIF classes.
Free Publications
Download printable PDFs of some of FINRA's key investor education articles and publications to share with your community. Note: Print publications and other resources are currently unavailable. We expect to begin accepting orders for shipment within the first quarter of 2022.
Taking Action: Assisting Victims of Financial Fraud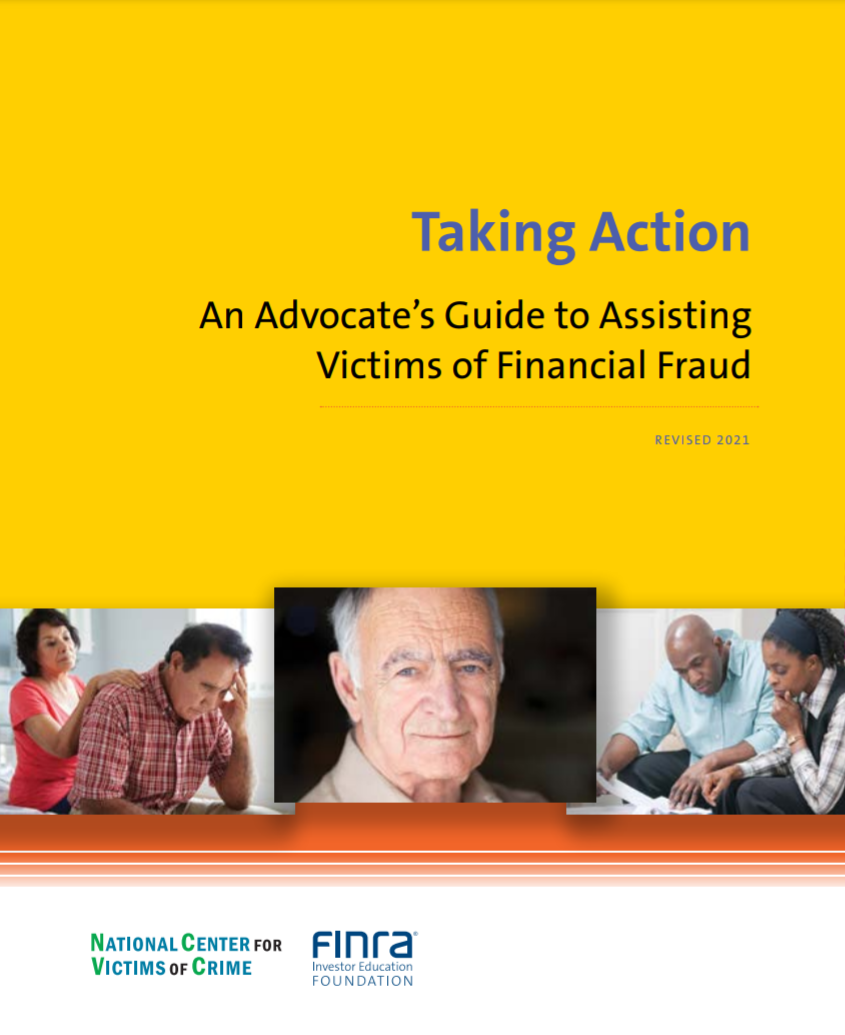 This resource from the FINRA Foundation and the National Center for Victims of Crime provides a roadmap for consumer advocates to assist victims in the wake of a financial crime.
Download the Advocate's Guide >>
Victims of financial fraud must cope with the aftermath of a compromised identity, damaged credit and financial loss, and a painful range of emotions. Use these checklists to help victims move forward toward recovery.
Identity Theft Checklist >>
Investment Fraud Checklist >>
Mass Marketing Fraud Checklist >>
Mortgage and Lending Fraud Checklist >>